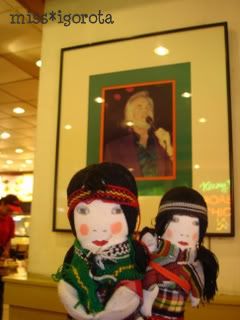 last month, these two igorota siblings reunited at
kenny rogers' roasters
restaurant at sta. lucia east grand mall in cainta, rizal, philippines.
their adoptive travel buddies, namely,
fortuitous faery
from new jersey and
gingmaganda
from cainta couldn't believe
they'd meet again
after only nine months.
at the dinner date, they anticipated
sailormoon
(now also a blogger for miss iggy) to join them, but she couldn't make it at the last minute. she was super-thoughtful, though, for sending us christmas gifts and delicious treats from
breadtalk
via personal courier. the pastry treats even had sticky notes to indicate the flavor. fortuitous faery loooves the "spicy floss." this is THE kind of floss you'd love to sink your teeth into!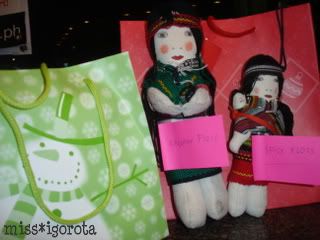 fortuitous faery and gingmaganda caught up with each other's lives and discussed miss iggy's progress and potential recruits over kenny rogers' chicken meals. after that, they wrote a little critique of the dining experience, because the waitress was a little persistent that we do so.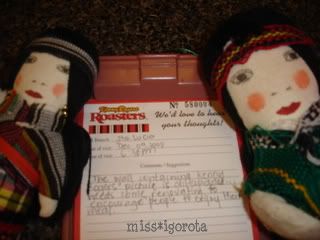 the comment reads, "the wall containing kenny rogers' picture is dilapidated...needs some renovating to encourage people to enjoy their meal."