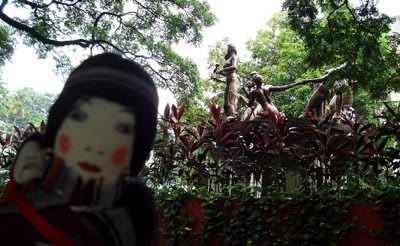 a blurred miss igorota with the UP College of Arts and Letters' Hardin ng mga Diwata- i think they are sculptures of women doing things that students of the college do- one lady is typing away on a typewriter, one is dancing, etc.
is rainy day and gingmaganda has actually stopped going under that sculpture- many summers ago she had the ill fate of sitting nearby said sculpture and had a caterpillar kiss her neck, which sent her straight to the ER of the UP Diliman infirmary and had to take hydrocortisone for the next few days.
her neck and face was all red and blotchy. eeew.