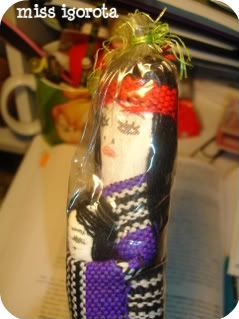 miss igorota, in all her purple glory, just left for
singapore
, where she's about to meet her purple highness,
dyowsa
. (pronounced "JOE-suh", is a variation in spelling of the filipino word meaning "goddess.")
miss igorota hopes to arrive in time for dyowsa's wedding in february in the philippines, so she can sneak into her luggage and gaze at the beauty of
caleruega church
in batangas where the wedding will be. take a peek at their
cool wedding invite
!
miss iggy left jersey soil on a very snowy saturday, so she can't wait to be in warmer weather. (it's been one snowstorm after another)
miss iggy hopes dyowsa doesn't mind she looks like a purple carrot with those green threads sticking out of her head...they're just part of her packaging, anyway.
bon voyage, purple iggy! hope you don't get lost in transit, and say hello to the merlion for us!