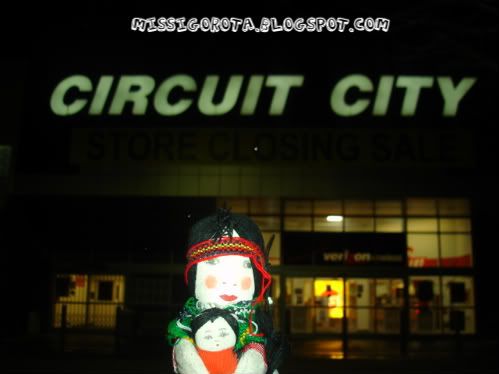 "
recession
" is a bitter word that's gripping the whole world.
jersey iggy
was sad to see
circuit city
, one of the electronics store giants (or used to be) in the US, (second to
best buy
) succumb to bankruptcy when it
announced on january 16th this year
that it was closing its remaining
567 stores
across the country.
this store has been around for 60 years, but is now undergoing liquidation such as this store above in
ledgewood mall,
new jersey.
the camera's flash obliterated the sign which announced "store closing sale." (if you look a little more closely, though, you'll see.) the store offers an extra 20% discount on all of its merchandise, but they're all regarded as "final sale," meaning they're non-returnable once purchased.
fortuitous faery
's current digital camera (a sony cybershot) was bought from this store's website. circuitcity.com used to offer free shipping for orders worth $25 and up.
so long, circuit city....thanks for the memory sticks.