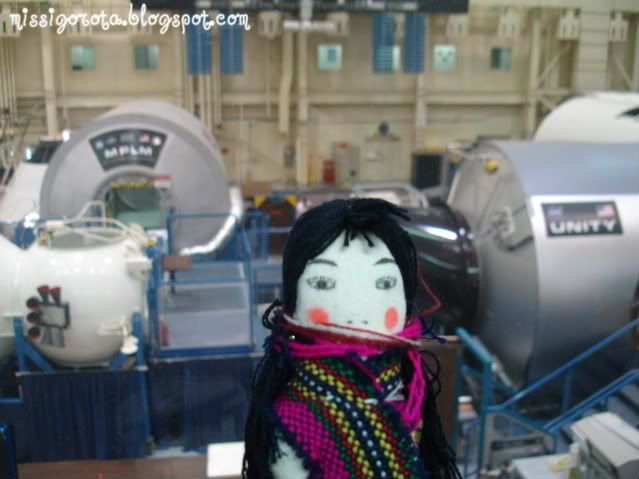 miss iggy's job is usually just to travel and say cheese (like she did here inside the space lab at
space center houston
in texas, taken last april), but she felt obliged to respond to
miss veronica escudero
's
"7" tag
...
============================
Tagging Rules
1. Link to your tagger and list these rules on your blog.
2. Share 7 interesting/random facts about yourself on your blog.
3. Tag 7 people at the end of your post, leaving their names as well as links to their blog.
4. Leave a comment on each of their blogs to let them know they've been tagged.

7 random facts about miss igorota:
she is a

souvenir dol

l

that one can usually buy in

baguio city

(benguet province, philippines). the three igorota dolls featured in this travel blog are all from

strawberry farm

in la trinidad, benguet, purchased by gingmaganda. strawberry farms are something of a novelty in a tropical country such as the philippines. you have to take a special trip in the northern highlands to reach this place.

her name "

miss igorota

" came to mind when fortuitous faery recalled the

1968 movie "igorota"

which starred the late

miss charito solis

as a tribal princess.
the doll above is the original one given by gingmaganda to fortuitous faery. you can see the threads of her headgear unraveling down her face...signs of being toted around in a purse far too many times. in much later photos, her eye gets smeared with moisture from a water bottle inside a purse.

fortuitous faery currently travels with a

second igorota doll

also sent in by gingmaganda. it's a taller version that requires a bigger purse to carry around.
"

miss iggy

" is her nickname. the bloggers who photograph her are collectively known as the "

sisterhood of the traveling igorota

," coined after "the sisterhood of the traveling pants."

miss iggy's first travel photo was at

quiapo church

in manila, philippines--home of the famous and much-venerated

black nazarene

.
miss iggy's newest travel buddy is princess ody in

vienna, austria

. miss iggy is excited to be in europe!
miss iggy won't be tagging 7 other people, instead she's just tagging
gingmaganda
and
princess ody
.