no matter where
filipinos
are around the world, they will always crave for the familiar home-made food they grew up loving. that's why when
jersey iggy
found out that there's a filipino-owned restaurant close to where she lives, she happily dropped by for dinner and sampled their menu. she's also thrilled to know that when the urge for
pinoy
food strikes, she doesn't have to go all the way to far-away
jersey city
or
bloomfield
.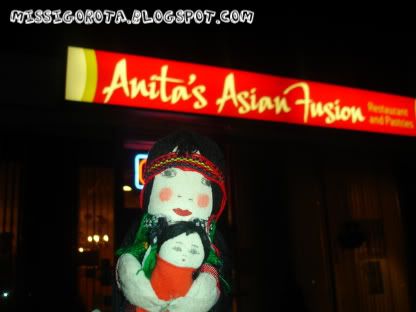 anita's asian fusion
is a cozy little restaurant which offers select asian and filipino dishes. for our entrees, we ordered
chop suey
(because
fortuitous faery
is trying to increase her fiber intake, haha)...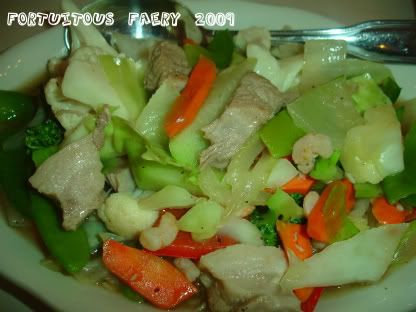 "
binagoongang baboy
" which is chunks of pork sauteed in flavorful (and not too salty) shrimp paste: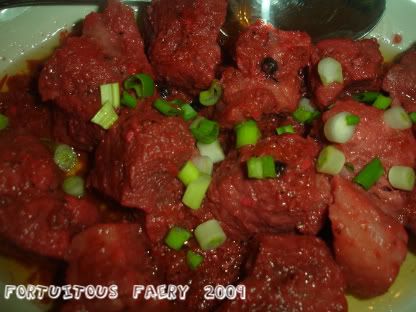 and not photographed was the
kare-kare
or the oxtail stew with shrimp paste. they also serve you free soup and salad for appetizers.
the owners of the place confide in their homepage that
it was their "nomadic lifestyle"
that inspired them to engage in this business. at one point, they had lived in
baguio
where anita had started a pastry-making business which would become the forerunner for this jersey restaurant.
another thing worth visiting this place for is their
empanadas
! they cost only
87 cents each
and are delicious! they're easily miss iggy's favorite take-out items. we ordered 2 dozens to take home.
anita's asian fusion restaurant is located at 538 Route 10 West, Ledgewood, New Jersey. they're closed on mondays. check out their huge aquarium with really plump fishies.