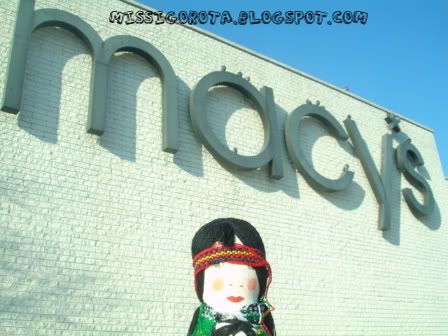 jersey iggy lives close to a
macy's department store
which is located at the rockaway townsquare mall in new jersey. macy's is an american department store chain whose flagship store is at
herald square
in manhattan.
macy's
prides itself for its annual
thanksgiving day parade
at herald square which features extravagant and fun character floats.
macy's was founded by
rowland h. macy
in 1858. last year, macy's celebrated its
150th
anniversary. it declares itself as "the world's largest store" (referring to the one at herald square), but
wikipedia states that it's now tied with harrod's
in london in terms of store size.
macy's signature color is
red
, and its signature logo is the red star.
february is american heart month
, and macy's is a proud national sponsor of the "
go red for women
" movement which aims to promote heart disease awareness.
movie trivia: the original film "
miracle on 34th street"
was set in macy's store at herald square (because it literally is on 34th street in new york city), but its 1994 remake was set in a fictional "cole's department store" when macy's refused the filmmakers to use its name.
p.s. those are birds perched on the letters of the macy's sign.