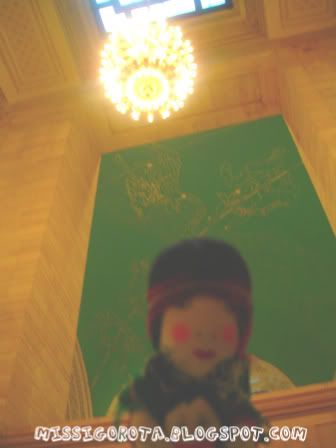 Jersey Iggy
was starry-eyed at the celestial ceiling (part of which you can see above her head) inside the Main Concourse of the
Grand Central Terminal
in New York that was painted with intricate constellations. This stellar artwork was originally done in 1912 by French artist
Paul César Helleu.
The ceiling underwent a 12-year-long restoration which ended in 1998 to rejuvenate its original luster. If you drop by Michael Jordan's Steakhouse in this building, you can catch a glimpse of the actual grime that had covered the ceiling, which remains untouched.
However, this astronomical masterpiece isn't an accurate depiction of the constellations' actual placement in the sky--the artist had painted the constellations
backwards
as based on a medieval manuscript. But don't let that deter you from marvelling at this glorious work of art!