Jersey Iggy
tagged along with
Fortuitous Faery
to a blood drive by the
New Jersey Blood Services
, a division of the
New York Blood Center
. The blood drive was on
St. Patrick's Day
, on this really cool bus--a mobile blood drive unit--on a parking lot in Wharton, New Jersey.
Donating blood is not only good for your health, your gift is also considered
life-saving
, as it supplies hospitals in New York and New Jersey in need of blood.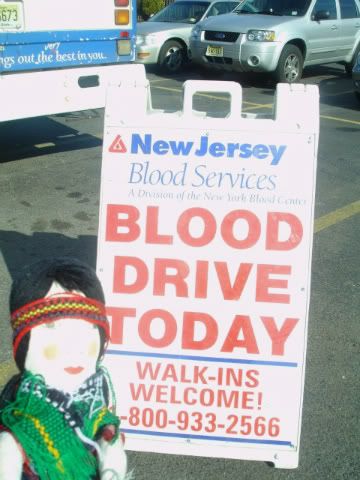 Donors must meet certain criteria in order to be considered eligible. A questionnaire is provided to determine if you can donate blood. This non-profit, independent blood center sometimes offers free incentives to donors, such as free cholesterol screening (as was the case that day) or gift cards in the mail. After your first donation, you are
issued a donor card
which identifies you and your blood type and makes your next donation easier. If you provide your email address, you get email notifications of the next available blood drive in your area.
After this good deed, Miss Iggy was proud to wear a St. Patrick's Day-themed button from
Helzberg Diamonds
(
these "I am Loved" buttons are free!
) and a red "badge" from the blood drive. (Miss Iggy thinks, though, that people will be out partying and pubbing on this day rather than donate blood. Drinking alcohol disqualifies you as a blood donor. :P)