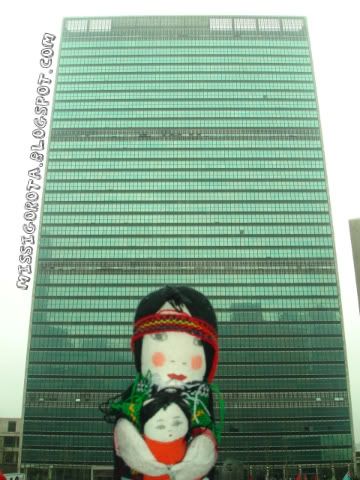 miss iggy sends salutations from the
united nations headquarters in new york
! she felt at home here, true to her calling as self-proclaimed ambassador of good will and travel thrills! behind her is the famous
UN secretariat building
which has 39 stories and is over 500 feet tall.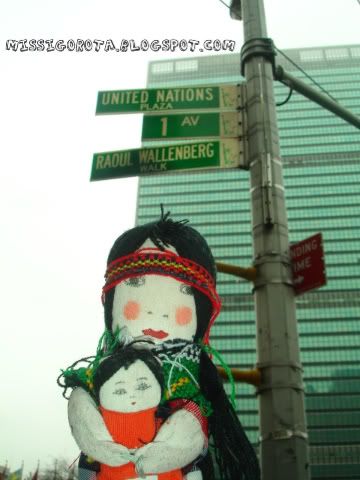 visitors can enter
the UN at 1st avenue and 46th st. in midtown manhattan. the area occupied by the UN headquarters is considered
"international territory"
although physically on american soil. this land, which overlooks the east river, used to be a meat slaughterhouse location (as overheard from one of the tour guides) before it was converted into the UN headquarters in the 1950's by a team of international architects led by new yorker
wallace harrison.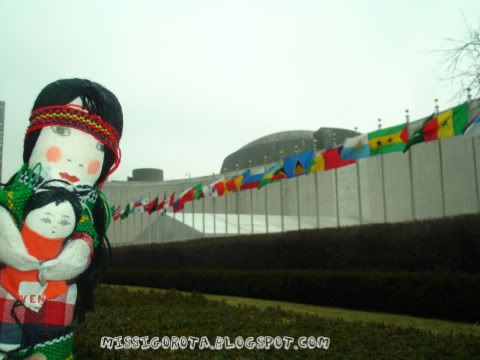 these are the flags of member states that line the
general assembly building
. currently, there are
192 member states in the united nations
.
philatelists and postcard enthusiasts will also be pleased to know that the UN has
its own post office
with
unique postage stamps
. so while you're there, send a postcard back home!
for more information on visiting the UN headquarters in new york,
click here
.
miss iggy had a
previous international experience in

vienna
, too--with
princess ody
!
here's to
world peace!