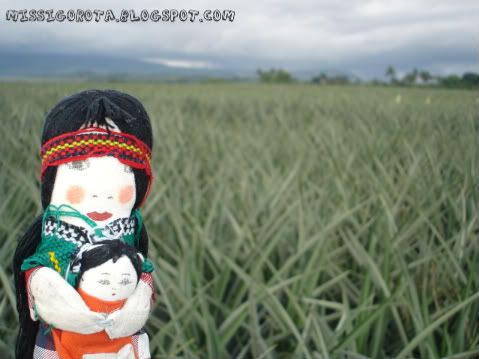 pineapple farms as far as the eye can see! no fruits yet, though, but still, miss iggy thought it was marvelous to be in the home of
dole philippines
last december in
polomolok, south cotabato
.
polomolok actually has a small town or
baranggay
called
"cannery"
, which is home to dole's cannery plant. most, if not all, of the inhabitants here and its surrounding areas work there. tourists who visit polomolok will most likely take back cans of dole pineapple products (fresh from the cannery!) to manila as edible souvenirs.
just beyond this vast pineapple landscape is polomolok's famous
mount matutum
(herein partly enshrouded by clouds). this is a favorite destination for mountaineers and hikers.
there is a
philippine legend about the pineapple
. according to the story, the fruit used to be a girl named
pina.