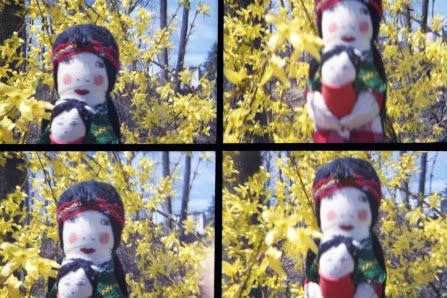 an actionsampler is a type of toy camera with four lenses instead of one, so that one click of the shutter button lets you have four different shots of one continuous motion, captured in one frame of film. it's like the "continuous shutter" mode on your digital camera.
miss iggy's colleagues are more conversant with all things "lomo". just look around the archives with the label "lomo iggy" for more lomo-flavored fun.
miss iggy jumped for this flowery shot. can you see the action? (miss iggy is rather demure when it comes to jump shots) to see her with these yellow blooms in normal mode,
click here
.
miss iggy wishes everyone in the states a
happy memorial day weekend!
you know what that means...it's

officially summer!

[
go easy on the barbecued red meats! wear sunscreen!]