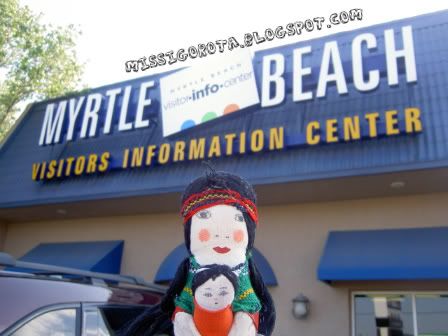 miss iggy felt victorious reaching
myrtle beach
vicinity. she stopped by the visitor's center to grab some brochures and coupons for myrtle beach attractions and shopping/dining places.
fortuitous faery
almost got backed up into by their car after taking this shot. the iggy sisterhood works hard to bring you these photos!
by the way, today is the much-awaited boxing match between the philippine's "national fist"
(pambansang kamao)
manny "pacman" pacquiao
and british contender
ricky "hitman" hatton
in las vegas. it technically airs on sunday morning, philippine time, though. it's a time zone thing.
and last but not least, this month marks
miss igorota's first blogoversary!
that's right, miss iggy's been globe-trotting for a year! isn't that amazing? the girls at the sisterhood think so, too...so watch out for a little give-away here soon!