This is it! Miss Iggy was in the middle of all the misty action aboard the
Maid of the Mist
in Niagara Falls!
It was a bit of a rocky ride because the impending rain made the waters wavy, but the people held on, also careful not to slip on the wet floor. The spray of mist became stronger as it neared the Bridal Veil Falls (below) of the American side...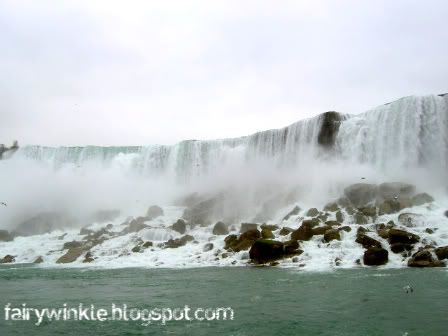 ...and it felt like torrential rain the moment we reached the raging Horseshoe Falls of the Canadian side that Miss Iggy had to take cover quickly in a purse since she didn't have her own blue poncho (given free to riders of the Maid of the Mist) like these other tourists she's with.
High and dry! Literally!