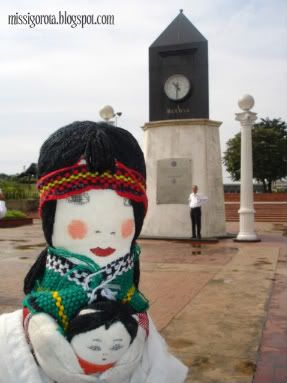 miss igorota thought it was convenient that a big
bulova clock
stood just across the
rizal monument
in manila's
luneta park
last month. she was starting to feel a little hungry from all the walking under the sun and wondered if it was time for lunch yet.
the clock is flanked by two
carabao statues
on each side and marks the path leading towards the quirino grandstand.
the plaque on the front reads in part,
"this memorial clock is a capstone on a century of philippine masonry and on the centennial of its highest achievements:
the philippine revolution
, the philippine war of independence and the first republic in asia whose fighting standards carried the symbols of the craft: the triangle, the sunburst and the golden eye-perfection, light and wisdom."
--signed by enrique l. locsin, centennial grandmaster in 1998.
miss iggy reckons that this clock was installed around the time when the philippines celebrated its centennial anniversary of independence in 1998...or ten years ago.
bulova is a
new york-based
maker of fine timepieces.
do you know what time it is? it's time to say "thank god it's friday!"