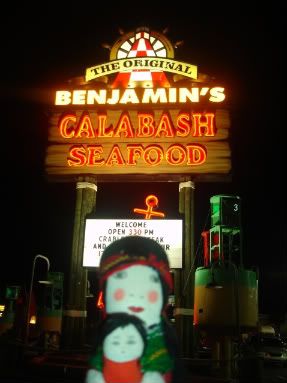 it's all about the "benjamin's" at
myrtle beach
's restaurant row, where virtually every corner has a calabash-style seafood buffet restaurant such as this one to satisfy your need for squid and all other creatures of the sea.
calabash

is a town in north carolina
close to myrtle beach (which is in south carolina) which prides itself as the
"seafood capital of the world."


the town's name comes from the word
"calabash,"
a bottle gourd whose name sounds like the philippine "kalabasa," or as the spanish call it, "calabaza." this type of vine grew abundantly in this town, hence the name.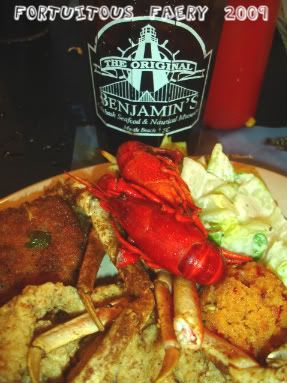 their seafood is distinctly known as "calabash-style" because of their own way of deep-frying them. at
the original benjamin's calabash seafood restaurant
, you'll get seasick from the wide variety of seafood and southern favorites. there's crawfish, crab legs, crab cakes, oysters, shrimps and a whole lot more. watch out for the creamy lobster bisque soup, a little too much can fill you easily, and you must leave room for dessert!
miss iggy loved how each guest is greeted by a captain at the entrance. he spoke just like the captain in that spongebob squarepants song! arrrr!